Honda Ruckus Scooter Mod
14 Aug
Honda Ruckus What Comes Stock?
Whether you're a college kid or a grocery-getter, the Honda Ruckus is the perfect around-town scooter that you need if you're looking for a straightforward ride. With one press of the electric start button, a simple twist of your wrist will make the 49cc single-cylinder engine of this scooter go. There's no clutch work required, thanks to its automatic transmission! Its tubular frame and simple design make it a custom builder's playground as well.

Honda Ruckus Reviews, Comparisons, And Competition
A few years back we took the Ruckus to The Dragon for an apex riding experience. We noted that getting more people to ride wasn't hard, and didn't require marketing magic. Build something fun and cheap and more people will ride them. And these riders choose the Ruckus. Many people have owned sportbikes, cruisers, and high-capacity ADV bikes, or they have them in their garage, but they still choose the smaller bikes because of the freedom of the riding experience. Some would argue that the Ruckus is its own breed of two wheels, but for the sake of getting people in seats, other cult classics like Honda's own Super Cub and Metropolitan, and even the Yamaha Zuma 125 serve as competition because of their similar around-town capabilities.

2020 Honda Ruckus Claimed Specifications:
Transmission: Automatic
Final Drive: Belt
Seat Height: 28.9 in.
Rake: N/A
Trail: N/A
Front Suspension: Twin-downtube fork; 1.9-in. travel
Rear Suspension: Single shock; 2.6-in. travel
Front Tire: 120/90-10
Rear Tire: 130/90-10
Wheelbase: 49.8 in.
Fuel Capacity: 1.3 gal.
Claimed Wet Weight: 194 lb.
Honda Ruckus's Aftermarket Parts:
We offer the best of Honda Ruckus parts and accessories from great brands like Dr. Pulley, Malossi, Polini, Prima, and many more. We've got everything you need to customize your Ruckus. Revamp your suspension with our NCY front end kits and the Low Down rear shock. Make it your own with a seat lowering kit and a footrest. We can even help you make your Ruckus faster with our unlimited NCY CDI and a new variator kit. We are always adding sweet new items, so be sure to check back often.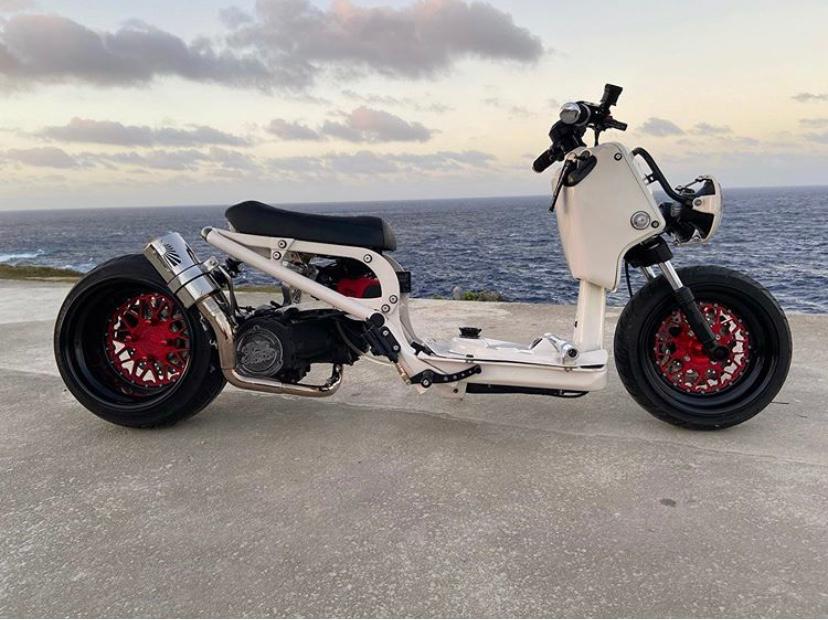 Designed Stretch 'Honda Ruckus' White kudus 'James Fleming'
And there are many more high-quality aftermarket scooter parts available at the NCY STORE. So if your OEM parts fail or get bogged down, let NCY Performance Scooter Parts be your source for finding better and upgraded replacement parts for your Honda Ruckus scooter.

To check out the latest Honda Ruckus Aftermarket performance parts and accessories, click here.