Perfect For New Riders Honda Grom Motorcycle
08 Aug
Perfect For New Riders Honda Grom Motorcycle
Doesn't this motorcycle look like lots of fun waiting to happen? This is the Honda Grom 2020, which will help you have the most enjoyable time even during the dullest parts of the day.

The Honda Grom 2020 sports a 125cc engine that provides loads of power. Its lightweight and usable size is something new riders will love but even the experienced motorcyclists won't be able to resist the agility and complete fun factor of the Grom. And needless to say, the Grom includes legendary Honda consistency, reliability, and durability, so it's practically hassle-free to get around. The shortest journeys will turn into the most exciting experiences with a new Honda Grom that also saves a lot of gas.
It is well known that Honda makes some spectacularly fast motorcycles. You can even get a relatively similar replica of the bike that helped an American win Paris-Dakar. But the brand is possibly best known for its smaller motorcycles, which are more fuel-efficient and affordable. And one of them, in particular, has had a surprisingly major selling success rate; it's the 125cc Honda Grom. But how did the Grom do so well in the US, surrounded by bikes like Harley-Davidson's cruisers?
The Honda Grom and its stablemates
As of now, the Honda Grom is one of three motorcycles that Honda is offering with a 125cc engine. The Monkey and the Super Cub, are both new versions of classic Honda bikes, which are also available. The Grom is similar to a mini sports-bike, Super Cub to a scooter, and the Monkey is like a tiny dual sport/moto bike from the 60s.
These bikes use a four-speed transmission. The motorcycles are powered by a 125cc air-cooled single-cylinder. The Grom produces 9 hp and 8 lb-ft which doesn't seem like much, compared to the 94-hp Africa Twin. But this bike is very light, even for motorcycles. The Honda Grom weighs only 229 lbs, while the Super Cub and the Monkey weigh 240 lbs and 232 lbs, respectively.
Despite having a top speed of only 56 mph, the Grom is found to be more than capable of overtaking cars in the city. Though, the motorcycle's small engine and speed might make it unsuitable for highways.
And somehow, Honda sold over 40,000 Groms in the US by the end of the year 2018. Various companies make aftermarket Grom performance parts. Groms are also used as racing team support bikes. What makes it so popular?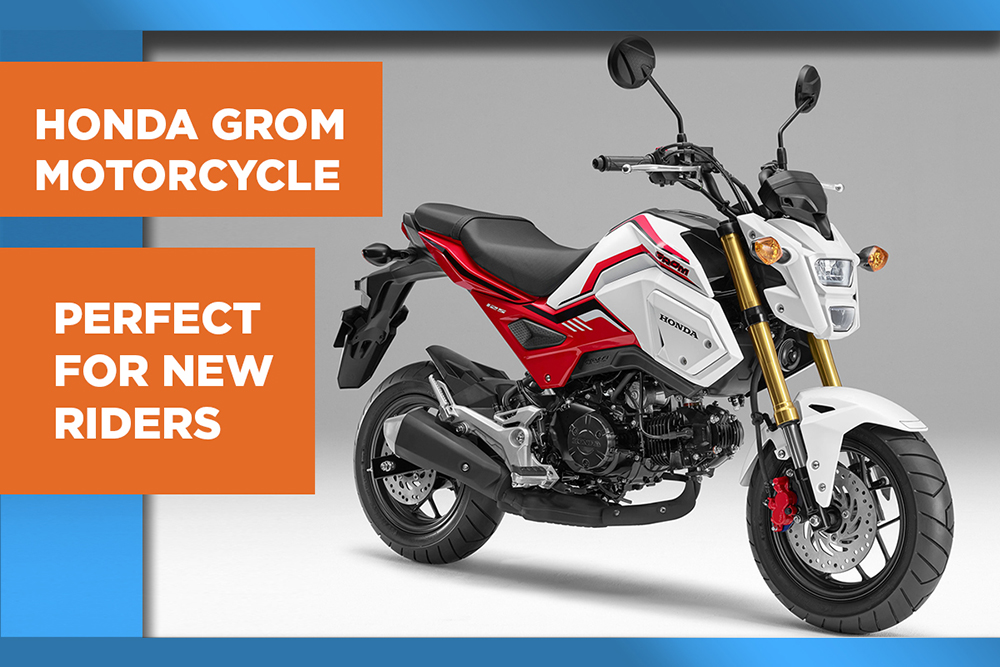 What makes the Honda Grom appealing?
It is economically efficient. While it has only a 1.45-gallon fuel tank, it can have more than 100 mpg. The Grom is one of the cheapest motorcycles out there as it costs just $3,599 with ABS.
However, inexpensive transportation is just a tiny part of its larger charm. The Honda Grom shapes up to be a perfect way of getting into motorcycling. For both novice and seasoned motorcyclists, the small sports bike has plenty to offer.
The seat of the Grom is close to the ground, just like it is on a standard or a cruiser. This makes it easy to put a foot down and lets you position your legs directly underneath you and around the fuel tank comfortably. This further increases stability and control.
The Honda Grom's speed isn't terribly fast which is one of the primary reasons that led some veteran bikers into buying this tiny bike. They can enjoy themselves at safe speeds on the road while also pushing the limits of the bike without worrying about causing dangerous high-speed accidents. The main purpose of the Grom is to have fun.
2020 Honda Grom Specs:
ENGINE
Type: Single-cylinder
Displacement: 125cc
Bore x stroke: 52.4 x 57.9mm
Compression ratio: 9.3:1
Valvetrain: SOHC, 2vpc
Fueling: EFI
Cooling: Air
Transmission: 4-speed
Final drive: Chain
CHASSIS
Front suspension; travel: Non-adjustable inverted 31mm fork; 3.9"
Rear suspension; travel: Spring-preload adjustable shock; 4.1"
Tires: Vee Rubber
Front tire: 120/70 x 12
Rear tire: 130/70 x 12
Front brakes: 220mm disc w/ 2-piston caliper
Rear brake: 190mm disc
ABS: Optional ($200)
DIMENSIONS and CAPACITIES
Wheelbase: 47.2"
Rake: 25 degrees
Trail: 3.2 inches
Seat height: 30"
Fuel capacity: 1.45 gallons
Estimated fuel consumption: 134 mpg
Curb weight: 229 pounds (ABS: 234 pounds)
COLORS
Standard: Cherry Red; Blue Raspberry; Halloween Orange; Incredible Green
ABS: Cherry Red
2020 Honda Grom Prices (MSRP)
$3399
$3599 (ABS)
Limitations
The Honda Grom does have some downsides. The bike doesn't have any storage space. Additionally, the seat is a little too rigid for prolonged traveling. Although it can accommodate two people, its small engine entails a lack of performance. So if you need to commute on a freeway, a better option would be a bigger-capacity bike like the CB300F or CBR500R.
Should you buy a Honda Grom?
The Grom is the better-selling bike as compared to the Monkey and the Super Cub. It has also been on sale for longer. The Grom's closest competitor is the Kawasaki Z125 Pro which is a bit more affordable than the Grom, at $2,999. It is also moderately faster with a top speed of 60 mph. Kawasaki's transmission is geared lower, which makes it seem faster. However, the seat feels cramped and uncomfortable.
To summarize, the Honda Grom has more pros than it has cons. This motorcycle is a good starting point for beginner motorcyclists with negligible or hardly any motorcycle experience. It is also a good choice for veteran riders who prefer a safe motorcycling experience.
And there are many more high-quality aftermarket scooter parts available at the NCY STORE. So if your OEM parts fail or boggled down, let NCY Performance Scooter Parts be your source for finding better and upgraded replacement parts for your Honda Grom Motorcycle.
Check out the latest Honda Grom aftermarket performance parts and accessories, click here.