Ban Jing Clutch Bell 5-Blade Racing Star (GY6, PCX)
ETA 4 - 10 Days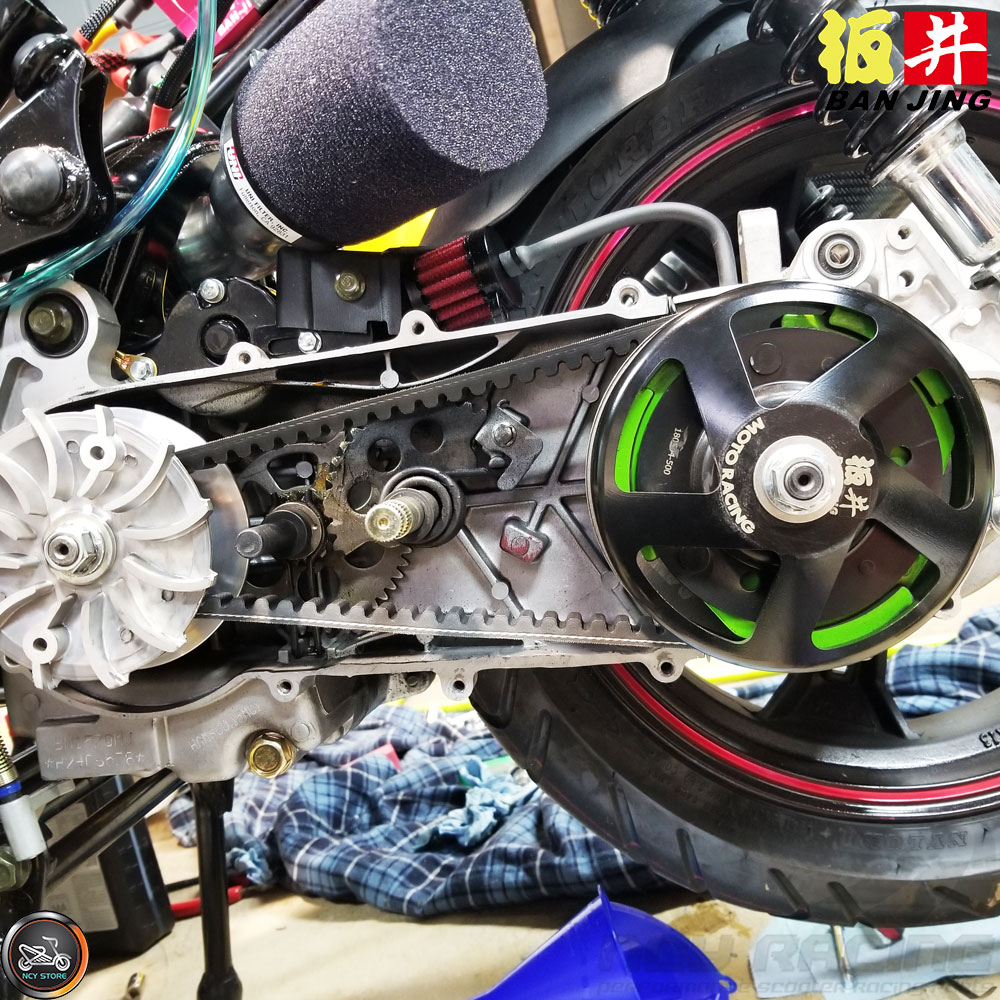 ZNEN Scooter NCY CVT KIT GY6 courtesy photo by Anthony Myers
Description: New Ban Jing Clutch Bell Racing 5-Blade lightweight 660g. It can fit most Chinese scooter models GY6 125cc-150cc+, Honda PCX 125-150cc (2010 and newer), and many others.

Features:

• Cross-Drilled Heat Dispersion and Debris Extraction
• Inner Textured for Better Initial Bite
• Ultra-Efficient Cooling Properties
• Lighter Than Stock Clutch Bell
Specifications:
Include the following Clutch Bell PTFE Coated.

• 1x Iron Clutch Bell (5-Blade) Vented Weight: 671.77gm / ID: 124.6mm / OD: 136mm / H: 43.6mm
• Splines: 19 / ID: 13.5<15mm / OD: 20mm / H: 25.45mm
• Made in Taiwan
• Fit Clutch Nut: M28 / Socket: 39mm
• Fit Clutch Shaft Nut: M12 / Washer: M12 / Socket: 17mm (Fit GY6 ONLY)
• Fit Clutch Shaft Nut: M12 / Washer: M12 / Socket: 19mm (Fit PCX ONLY)
• Fit Belt Size: 743, 835, 842 (Fit GY6 ONLY)
• Fit Belt Size: 816, 836x22x30 (Fit PCX ONLY)
• Fit Clutch Springs: 1k, 1.5k, 2k rpm
• Fit Compression Spring: 1k, 1.5k, 2k rpm
• Fit Dowel Pin Set (8x10mm)
• Fit GY6 125/150cc+
• Fit PCX 125/150cc+

Supported Models: Ban Jing CVT KIT (Part# 169-500); GY6 152QMI 157QMJ 161QMK 161QML Chinese Scooter, ATV, Genuine Buddy, Kymco, Polaris RZR 170, Honda PCX 125/150cc (2010 and newer), Ruckus, Vento
-----
Item Weight & Product Dimensions:
• 1.480 Pounds | 5.358" (OD) x 4.908" (ID) x 1.720" (H)
Ban Jing Clutch Bell 5-Blade Racing Star (GY6, PCX)
Stock:

ETA 4 - 10 Days

Reward Points:

1

Part #:

169-323
Ban Jing
Price in reward points: 39
Tags:
ban jing clutch bell racing 5-blade gy6
,
ban jing racing clutch bell ptfe coated star gy6
,
ban jing racing clutch bell ptfe coated star
,
ban jing racing clutch bell ptfe coated
,
ban jing racing clutch bell gy6
,
ban jing racing clutch bell
,
gy6 clutch bell
,
ban jing clutch bell racing 5-blade pcx
,
ban jing racing clutch bell ptfe coated star pcx
,
ban jing racing clutch bell ptfe coated star honda pcx
,
ban jing racing clutch bell ptfe coated honda pcx
,
ban jing racing clutch bell pcx
,
ban jing racing clutch bell honda pcx
,
honda pcx clutch bell